They frighten each other with stories of our leader, saying things such as, "Hey, watch yer back, or White Eyes'll jump outta da shadows and getcha" with that ridiculous accent. Nonetheless, the rumors surrounding White Eyes are surprisingly close to the truth. He is a powerful warrior - we know him to be as immovable as a mountain and as pitiless as a storm - but the taletellers are missing one important detail. A secret most of our family does not even know. He is not the leader of the Jade Lotus. He's merely a figurehead, and the real power behind the Jade Lotus comes in a smaller - though no less dangerous - form....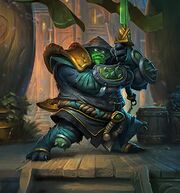 Ad blocker interference detected!
Wikia is a free-to-use site that makes money from advertising. We have a modified experience for viewers using ad blockers

Wikia is not accessible if you've made further modifications. Remove the custom ad blocker rule(s) and the page will load as expected.