Solia marks the Kabal with intricate tattoos that grant immense power. Also it makes it harder for other gangs to recruit from their numbers. BACK OFF, GOONS.
Once you come to the inevitable conclusion that the only path toward true mastery lies with US - here, have some more ice-cold Kaza-kola - you'll need to dress the part. I think red or purple robes can be quite fetching. Some of us pay a visit to Inkmaster Solia to receive one of her glorious glowing crimson tattoos. A tattoo from her not only marks your dedication to the Kabal, but can serve as a handy nightlight or massive reservoir of power in a pinch.
Solia's is looking for the arcane AND artistically inclined for tattooing apprenticeships. Put your arts work and make an everlasting impression on our clients.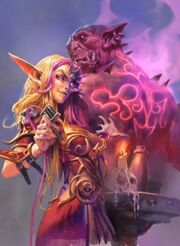 Ad blocker interference detected!
Wikia is a free-to-use site that makes money from advertising. We have a modified experience for viewers using ad blockers

Wikia is not accessible if you've made further modifications. Remove the custom ad blocker rule(s) and the page will load as expected.