Goblins are creatures common to many fantasy settings. Most goblins are shorter than humans (around 4 feet tall), with pointed ears and a nasty disposition. They are usually green or sometimes yellowish in color. They are usually not particularly civilized, forming themselves into tribes.
Some tribes of goblins are mechanically adept, fond of creating complicated devices. These devices are always malicious in nature.
Subraces and Variants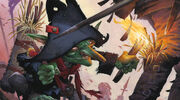 Ad blocker interference detected!
Wikia is a free-to-use site that makes money from advertising. We have a modified experience for viewers using ad blockers

Wikia is not accessible if you've made further modifications. Remove the custom ad blocker rule(s) and the page will load as expected.