A Flamewaker is an ambitious sort of fire elemental. In addition to being helpful when you need to rouse a sleepy fire, Flamewakers tend to be tougher and smarter than their fellow elementals, and often possess some skill in the arcane arts. Fire is their weapon of choice, and you can count on turning their scouring flames to your service should you win a Flamewaker's loyalty.
Noted Flamewakers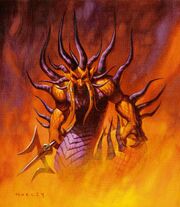 Ad blocker interference detected!
Wikia is a free-to-use site that makes money from advertising. We have a modified experience for viewers using ad blockers

Wikia is not accessible if you've made further modifications. Remove the custom ad blocker rule(s) and the page will load as expected.